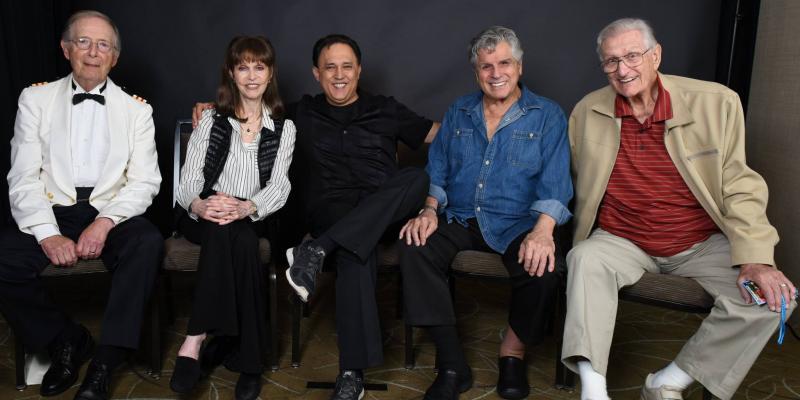 Marketing for TV Stars
When Celebrities do an interview, they often are hoping to promote a project, a book, or an event they're involved in. That's where our "CELEB-BUZZ" entertainment and marketing feature has been very successful, Steve Garland is not only CEO of SGM  Advertising, and lead Marketing Strategist, he's also a veteran broadcaster who's interviewed hundreds of musicians and celebrities from the legendary George Burns and classic TV stars to rock legends like Grace Slick, Van Halen and even the beatles FIRST drummer, Pete Best. These Radio/podcast features with classic TV stars, celebs, and musicians are always fun, exciting, and listened to by thousands- through Steve's Radio and Social media network, he brings the fans a few minutes with one of their favorite stars. And, Steve has a passion for asking great questions, whie promoting the artists's book or project!
"I love interviewing fascinating actors and musicians I admire", say Steve "and it's really become something I can share through radio and the internet fans on my " facebook fanpage,  - Steve Garland's Celeb-Buzz  .
       One of the most listened to interviews of the past few years has been Steve's interview with Barbara Feldon, from the classic TV Series "Get Smart", promoting the 50th Anniversary DVD release of the Series.  Her portrayal of "Agent 99" in the comedy series from Mel Brooks and Buck Henry is an iconic part of 60s pop culture, and the interview has since been listened to over 64,000 times! You can hear it here: https://soundcloud.com/sgmadvertising/celeb-buzz-get-smarts-barbara-feldon-steve-garland-4-25-15                       
Working outside traditional Advertising channels like is another reason SGM Advertising is different- We bring together the brioadcasting, digital and show business experience to truly make an ad campaign creative, memorable and effective. We're proud to have won 12 industry "ADDY" awards so far, for Best Commercial, Best Ad Campaign", "Best Jingle" and a "Most innovative Marketing" award. Our team works hard, has fun, and sometimes we are fortunate enough to spend some time with the stars- helping them promote their projects, AND bringing the fans a few minutes with one of their favorite stars. 
We can help.
We'd love to talk to you and find out how we can help with your marketing! Contact us now and we'll provide you with a free Digital analysis of your current online marketing worth $500 bucks!
To reach SGM advertising please call us weekdays 9am-5p PST Mon-Fri at:
(916) 576-1977
Or use our convenient live chat box at the bottom of this page.