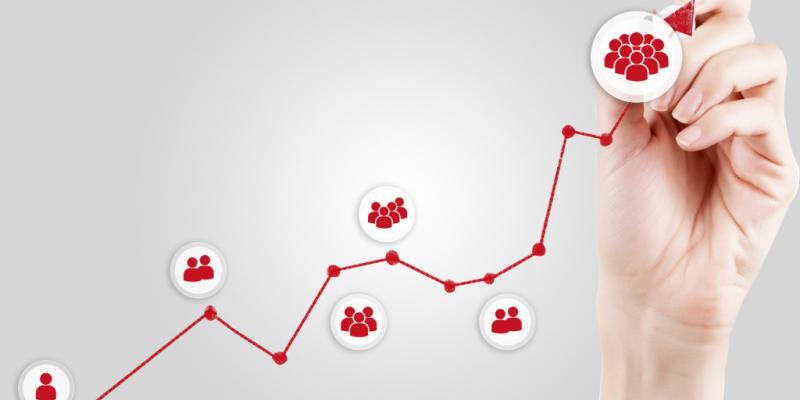 Tips to Expand your Marketing Base!
I found a very interesting article that was very timely, as it has come up in client conversations a lot this past year. HOW do you expand your customer base? Many of these clients had databases that were gathering dust, because they simply didn't have the time to organize and use them to talk existing customers and untapped leads you've collected. Who has that kind of time? I'll tell you who- nobody! However you're not alone in worrying about expanding your customer base. According to Emarketer, "Executives worldwide say expanding their customer base is a top priority, more so than retaining their existing one, according to August 2015 research"
They go on to say that "Forbes Insights and ServiceSource surveyed 334 C-level executives and senior managers worldwide from a variety of industries. Some 42% of respondents said that expanding their customer base was an important strategic priority for their company. And, nearly one-third of executives worldwide said that retaining their existing customer base was a priority. Improving customer engagement was also of importance, 31% of respondents said so, and maximizing customer lifetime value was another top priority according to 29% of executives worldwide.
So how do you get started when you're so busy running your company? Let's start with databases. They are a great way to take leads of any kind- from home shows, contesting, web-forms and external database growth programs, it's a cardinal sin to leave sitting on a computer. You need to START here, and begin talking to these people- usually in a direct mail piece or an email blast. A good marketing consultant can help you engage the right external resources to get an email program up and running with your logo, some graphics grabbed from your website, and a friendly message about an offer, but written a bit more like a casual conversation. This will help you start leveraging the consumers who've reached out to you but you have not bothered to reciprocate.
Can you sense it? Here comes your first tip- Start by turning your existing prospects into a part of your NEW CUSTOMER BASE. We do this for our clients, and once you know how to activate a database there are promotions and programs available to grow that database with qualified leads. We help our clients identify those programs and pick only the best. 
Of course once you tap that well, what's next? To expand your customer base, consumers first need to know you exist, why you exist, and how you can solve their pain better than your competitors. It's easy to fool yourself into thinking that the old advertising chestnuts still apply- "like choose price service or selection, you can't have all three". While there will always be SOME truth to those, they don't give you a roadmap into the mind of the modern consumer who's heard it ALL.
The next tip? Find a marketing expert to help you define your true brand, using words others don't. And start building a solid marketing campaign to reach out to consumers in a smarter way with copy that resonates, with branding that's unforgettable, and with offers that fit where you see your company's best differentiation point. Price is not always the #1 reason people choose a brand. They often eschew price for brands they LIKE, that resonate with them. This can be achieved with a strong message, the right frequency and reach, the right marketing channels, and sometimes spending time just entertaining people with your message instead of hitting them over the head with it.  I cover this more in an article called "10 Steps to creating a kickass brand – you can read it here:
http://sgmadvertising.com/blog/2016/02/24/10-steps-creating-kickass-brand-steve-garland
Tip #3 This one covers a lot of ground, but after all this an article, not a book! There is a myriad of other products and services offered to increase your customer base, from influencing social media efforts via Facebook and Instagram, to savvy re-targeting display campaigns (we use and recommend these) that can target prospects in several different ways including re-marketing to everyone who's visited your website in the last 30 days! I'll cover these more in depth in future articles.
A word of advice- armed with this information, don't run off and choose something just to "Try it". Work with a marketing expert that has vetted the program and has customers already using it with success that they can point to or show you a REAL case study! The big hammer for expanding your customer base is still media exposure for your brand, because again- if they aren't familiar with your brand, and have developed some engagement- even by getting a jingle or specific phrase about you stuck in their head, you're chances of getting that click or call is very low. I have never seen anyone jump for joy when handed a business card and immediately called on that vendor just because a card was shoved in their hand, unless there is some interaction, branding, or understanding of how you remove their pain that they can think of.
Thanks for reading, if you'd like to learn more, explore our website at www.sgmadvertising.comand www.thejinglelab.com   Need an expert to help you with your branding and marketing? The article's writer, Steve Garland is CEO and managing partner of the innovative ad agency SGM Advertising. You can contact SGM  at (916) 576-1977, or use the website's live chat or contact form. 
We can help.
We'd love to talk to you and find out how we can help with your marketing! Contact us now and we'll provide you with a free Digital analysis of your current online marketing worth $500 bucks!
To reach SGM advertising please call us weekdays 9am-5p PST Mon-Fri at:
(916) 576-1977
Or use our convenient live chat box at the bottom of this page.